All-on-4 – Stephens City, VA
A Full Smile with Fewer Bone Grafts
If one dental implant can replace a single tooth when topped with a crown, how many implants does it take when an entire arch of teeth is missing? Surprisingly enough, in many cases the answer can be "just four." With the All-on-4 procedure, Dr. Gromling can completely restore your smile with only a few well-placed metal posts. If you're tired of living with missing teeth, contact our practice today for a consultation so that you can decide if All-on-4 is right for you.
How Do All-on-4 Implants Work?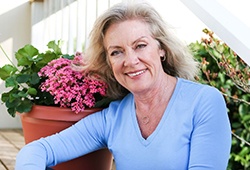 Traditional dentures rest on the gums and are held in place by an adhesive or natural suction. This restores your ability to eat and speak normally, but unfortunately it won't do anything to stop the bone loss in the jaw that's an inevitable result of losing your teeth. Consequently, the shape of your mouth will change and your dentures won't fit as well, becoming more likely to slip.
By using four dental implants surgically placed in strategic areas to serve as the roots, you can get dentures that are secure in your mouth. The implants will prevent further bone loss and provide greater stability to the prosthetic teeth, letting you eat a wider variety of foods and speak with confidence.
Am I a Candidate for All-on-4 Implants?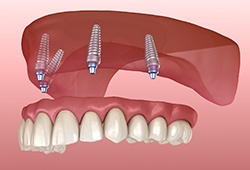 As the name implies, All-on-4 is used when all of the teeth in an arch are missing. (If a few are still there, they'll need to be extracted first.) One key benefit of the procedure is that because two of the implants are placed at an angle to take advantage of denser parts of the jawbone, even some patients who have already experienced bone loss can have the procedure done without needing to get bone grafts first.
You'll need to be in good overall health before getting implants, so gum disease and other conditions will need to be dealt with. If you smoke, you need to stop before and after the procedure so that the gums can heal properly.
What are the Benefits of All-on-4 Implants?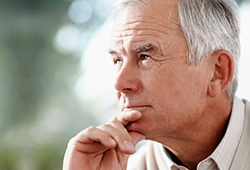 Lasts for Decades: Dental implants can easily last for 30 years or even the rest of your life. All it takes is good maintenance in the form of excellent oral hygiene.
Faster Process: In many cases, you can receive a temporary denture while you wait for the permanent restoration. You'll be able to enjoy a new smile much sooner than you normally would!
Retain a Youthful Look: Bone loss in the jaw can cause the skin around your lips to wrinkle, but this won't happen if you preserve the jawbone with dental implants.
Greater Chewing Power: Dentures that are supported by dental implants are almost equally as strong as natural teeth when chewing.
All-On-4 VS Traditional Dental Implants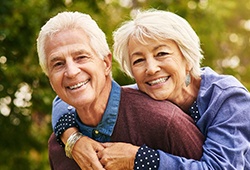 While traditional implant methods can be very effective in many different cases of tooth loss, you might need to pay for additional treatments such as bone grafts to prepare the jawbone. All-on-4 reduces the need for such procedures. Additionally, normally you need to wait a few months for the mouth to heal before you receive your prosthetic teeth, but All-on-4 implants are often stable enough to support a temporary restoration in the meantime.