Wisdom Tooth Extractions – Stephens City, VA
Premier Care for Premier Patients
The wisdom teeth are the most commonly extracted teeth because most people simply don't have enough room for them in their gum line. As the teeth try to come in, they often cause pain, crowding in the smile, and development of infection. To help our patients dealing with these issues or avoid them altogether, Dr. Gromling can perform wisdom tooth extractions right here in Stephens City, saving his patients from having to visit an outside specialist.
Why Choose Thomas A. Gromling, DDS for Wisdom Tooth Extractions?
Dentist with nearly 40 years of experience
Patient comfort is priority #1
Goal is to remove the teeth before they cause problems
What Are the Wisdom Teeth?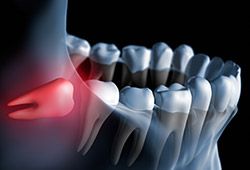 The wisdom teeth are actually the third set of molars, and they get their name from the fact that they usually start to come in around the late teens or early twenties when someone is a bit "wiser." They were essential for our cavemen ancestors whose diet mostly consisted of tough plants and meats, but as cooking methods have advanced, food has become much more edible and easier to chew, so the human jaw has shrunk over time. This is why most people simply don't have enough room for their wisdom teeth and need to have them removed. We recommend doing so as early as possible to avoid any symptoms or pain.