TMJ/TMD Therapy – Stephens City, VA
Custom-Solutions for Chronic Facial Pain
One factor in oral health that many people don't think about is the jaw, more specifically, the jaw joint that enables you to chew, speak, laugh, and yawn. It's called the TMJ (temporomandibular joint), and it can sometimes develop issues that lead to a variety of problems called TMJ disorders (or TMDs). Symptoms include pain in the jaw, head, ears, neck, shoulders, and even the back in some cases! Getting to the root of the problem is essential for providing long-term relief, and that's exactly what Thomas A. Gromling, DDS can offer for patients in need.
Why Choose Thomas A. Gromling, DDS for TMJ/TMD Therapy?
Custom-made treatments for every patient
Able to stop chronic headaches/migraines
Dentist with nearly 40 years of experience
Diagnosis & Treatment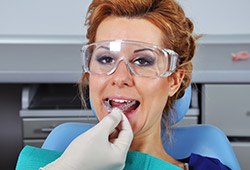 Many patients who come to see us have jaws that are stiff or click and pop all of the time. Some even experience chronic headaches/migraines and just can't figure out why. All of this points to a TMD, and in these cases, Dr. Gromling will perform a number of tests and take X-rays of the joint to figure out what is causing the problem. From there, he can recommend one of the treatments below to take care of it directly.
Equilibration/Occlusal Adjustments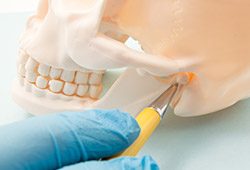 Often, a TMD is due to a misaligned bite which places undue stress on the jaw joint. To fix this, Dr. Gromling needs to rebalance how the teeth come together, which he can do by placing restorations on certain teeth or slightly reshaping others. This will help them close evenly in a way that allows the jaw to reach its natural resting position, which should help any pain or tension quickly go away and stay gone.
Occlusal Splints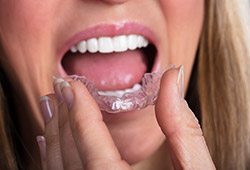 An occlusal splint is a type of mouthguard that a patient only has to wear to bed, and it basically "teaches" the jaw to stay in a new, more functional position that helps the surrounding muscles and ligaments naturally relax. Dr. Gromling custom-designs all of his splints for each patient so that they fit comfortably and allow for easy sleep. After a few weeks or months of consistent use, the jaw will begin to stay in the new position, allowing a patient to go throughout their day without any TMJ pain.