Dental Implant Restoration – Stephens City, VA
State-of-the-Art Solutions for Missing Teeth
Your teeth are actually composed of two main parts: the crown, which you can see, and the root, which you can't. Traditionally, tooth replacements only bring back the crown, but implants distinguish themselves by restoring the root as well. The end result is that the new tooth both looks natural and is extremely stable, which is why Dr. Gromling recommends them so often. If you're ready to stop dealing with your missing teeth and simply have a smile you can rely on, dental implants are the answer, and you can get them right here in Stephens City.
Why Choose Thomas A. Gromling, DDS for Dental Implant Restoration?
Restorations specially-made for each patient
High-quality materials lead to lifetime results
Dentist with nearly 40 years of experience
Benefits of Dental Implants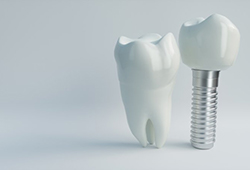 Every house needs a firm foundation, and every tooth needs a strong root to ensure that it stays in place within the mouth. Dental implants are the only treatment that replaces both the root and the crown of a tooth, which is why they are much more reliable than traditional dentures and bridges. A small titanium post serves as the new root, and this is usually topped with a 100% porcelain crown. Because implants sit within the jawbone just like natural teeth, they look just like natural teeth as well, meaning they can improve the look and function of the smile at the same time.
Implants are also the only treatment that can stop bone loss after tooth loss, as the new root actually stimulates the jawbone and encourages it to continually renew itself. This helps maintain the strength of the bite as well as the overall shape of the face. Plus, with standard oral hygiene, an implant can easily last for 30 years or more, which is multiple times longer than other traditional options.
Indications for Dental Implants
Dental implants are versatile enough to help patients dealing with varying degrees of tooth loss. Dr. Gromling can help you choose which of the following restorative options is best for you:
Missing One Tooth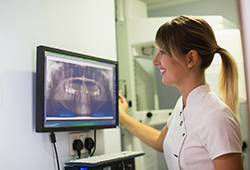 Instead of filing down two healthy teeth to support a bridge, a single implant can be placed directly into the jawbone and topped with a dental crown, leaving the rest of a patient's natural smile untouched.
Learn More About Single Tooth Implants
Missing Multiple Teeth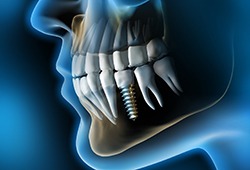 If a patient is missing more than one tooth in a row, just two implants can be used to hold a dental bridge in place. Two posts are positioned on either side of the gap in someone's smile, and these are used to support dental crowns that are bonded to additional prosthetic teeth.
Missing All of Your Teeth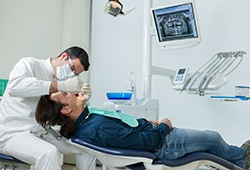 A full denture can be secured directly to the jawbone using just four to six implants, giving it a security and stability you simply won't experience with a regular removable denture. Implant dentures also restore much more of a patient's bite strength, helping them enjoy a more varied diet.
Learn More About Implant-Retained Dentures
Partners with the Best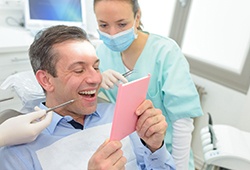 Dr. Gromling works with a network of oral surgeons and periodontists to place his patients' dental implants because these specialists have literally performed the procedure thousands of times. Because of this, he can rely on them to provide a pain-free experience and give his patients' new smiles a strong foundation they can trust. After someone has healed from placement (which can take anywhere from a few weeks to a few months), they'll return to Dr. Gromling to have him complete the process.
How Dental Implants Work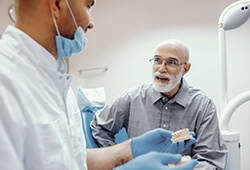 The dental implant process takes place over several months and multiple appointments, which some patients aren't aware of when they schedule their initial consultation. Dr. Gromling works with a highly skilled and experienced team to make the procedure as quick and stress-free as possible, allowing patients to enjoy their newly restored smile sooner. Get ready to experience exceptional, long-lasting tooth replacement results that will improve your quality of life. Although it's an investment in your time, you'll learn that the outcome is well worth it.
Learn More About How Dental Implants Work
Understanding the Cost of Dental Implants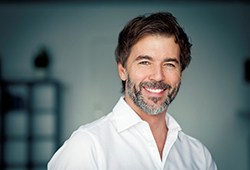 The cost of your implant procedure will be determined by a number of factors, including:
How many implant posts will be used
What kind of restoration you are receiving
Where the implants will be located in the mouth
If any preparatory procedures are needed (such as tooth extractions or a bone graft)
If any sedation or additional X-rays are used
Dr. Gromling will go over everything at a consultation appointment so you'll know exactly what to expect. Dental implants should be considered a long-term investment in your dental health, because while they might be more expensive than traditional restorations, they last much, much longer (as in multiple decades longer). In general, implant patients usually end up spending much less on their teeth overall because they don't require the maintenance or retreatment needed with other options.