Tooth-Colored Fillings – Stephens City, VA
Subtle and Effective Tooth Restoration
At the office of Dr. Thomas Gromling, we firmly believe in preventive dentistry and taking steps to prevent tooth decay from developing in the first place. However, on the occasion that cavities do still appear, we are ready to take action to stop tooth decay in its tracks and quickly repair your smile with a dental filling. Modern restorative dentistry offers a range of dental fillings, including gold fillings, amalgam fillings and tooth-colored fillings (also known as white fillings). Here is some helpful information on tooth-colored fillings in Stephens City and why they are an excellent choice to restore teeth.
Why Choose Dr. Thomas Gromling for Tooth-Colored Fillings?
Custom fillings specially designed for each individual patient
40 years of experience restoring smiles
Friendly and comfortable environment
What are Tooth-Colored Fillings Made of?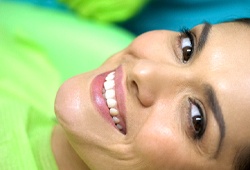 Since the mid-1960's, tooth-colored fillings have helped men and women in America restore the function of their teeth after a cavity and prevent further decay. Over the years, this natural-looking type of filling has grown both in popularity and also durability and aesthetics. Today, tooth-colored fillings are commonly crafted from a composite resin made of acrylic plastics blended with tiny glass particles.
Benefits of Tooth-Colored Fillings vs. Amalgam Fillings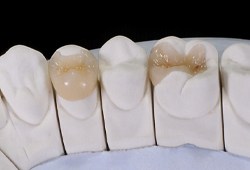 A primary benefit of tooth-colored fillings over amalgam fillings is their aesthetic appeal. Because tooth-colored fillings can be matched to the shade of the surrounding natural tooth, most people will never notice that you have fillings on your teeth. Moreover, due to its natural color, white filling material can even be used cosmetically to improve the shape of a tooth.
Additional benefits of tooth-colored fillings include:
Restore 85% to 95% of the original strength of the tooth.
Chemically bond to tooth structure – no slots, grooves or pins need to be placed in healthy tooth structure to mechanically retain them.
Harden completely in just seconds, unlike some other filling materials.
Minimal and brief tooth sensitivity – if any at all!
How are Tooth-Colored Fillings Placed?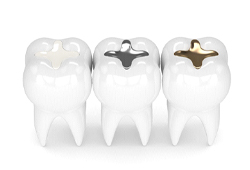 Tooth-colored fillings can be placed in just a few easy steps during a single appointment at our office in Stephens City.
First, Dr. Gromling will select the shade of composite resin that best matches the color of your natural teeth.
Once the dental decay is removed, he will clean your tooth and prep the area being restored with a primer to help the filling material chemically bond to your tooth.
Next, Dr. Gromling will carefully place the composite resin on your tooth, filling the space left by decay and restoring the shape and function of your tooth.
Finally, a special curing light will be used to harden the composite filling in place.
Quick and painless, a single dental filling can be completed in about an hour. Before you go, Dr. Gromling will check to make sure your teeth fit together properly and smooth and polish your new filling.
Caring for Your Tooth-Colored Fillings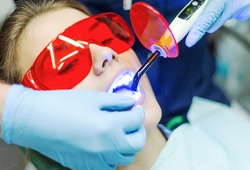 Tooth-colored fillings typically last between 5 to 7 years before needing to be replaced or repaired. However, practicing excellent oral hygiene can help extend the lifespan of your dental fillings and prevent the need for future repairs. Follow these tips to keep your tooth-colored fillings in top-notch shape:
Avoid smoking or chewing tobacco.
Avoid eating sweet treats and drinking sugary sodas.
Limit your consumption of coffee, teas, red wine and dark foods like blueberries that can stain tooth-colored fillings and natural enamel alike.
Brush your teeth twice a day using a soft-bristled toothbrush and fluoride toothpaste and floss daily.
Visit a dentist in Stephens City every six months for a routine dental exam and cleaning.