Implant-Retained Dentures – Stephens City, VA
Replacing Smiles with Strength & Beauty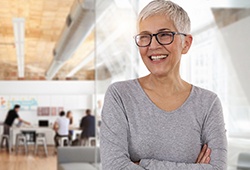 If you're missing all or most of your teeth, you may be considering a replacement option. While there are a few different choices, no solution will provide you with more health, functional, and aesthetic benefits than implant-retained dentures. Dr. Thomas A. Gromling offers this service to give patients a second chance at a strong and healthy smile. Read on to learn more about implant-retained dentures in Stephens City or request an appointment with our office today!
Why Choose Thomas A. Gromling, DDS for Implant-Retained Dentures?
Strong partnership with expert oral surgeons
Custom-made dental prosthetics
Experienced dentist & staff
How Do Implant-Retained Dentures Work?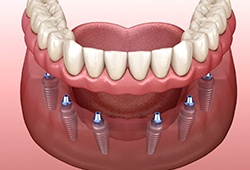 Implant-retained dentures combine the benefits of dental implants with dentures to provide the most stable and lifelike full smile replacement. First, an average of 4 small titanium posts will be surgically placed in your jaw to act as artificial tooth roots. Once they're successfully placed, we will attach a custom-made denture to create a stable replacement. Our dentures are composite, gum-colored bases attached to prosthetic teeth. While they typically rely on natural suction to stay in place, dental implants anchor dentures in the jaw for a strong replacement.
Am I A Candidate for Implant-Retained Dentures?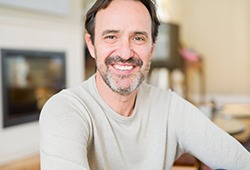 The only way to truly tell if you're a candidate for implant-retained dentures is to contact our office to schedule a consultation. Dr. Gromling will examine the condition of your oral health, the strength of your jawbone, and the number of teeth that you're missing before recommending implant-retained dentures. Patients typically must have a strong enough jawbone to accommodate implants, however, bone grafting is often possible to fortify the jaw.
The Implant-Retained Dentures Procedure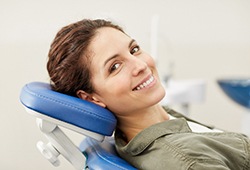 Initially, you'll come into our office for a consultation, where Dr. Gromling will recommend implant-retained dentures as your best option for a full smile replacement. Then, he will refer you to one of our expert implant dentists, who we will partner with to provide you the highest-quality treatment.
During surgery, they will make small incisions in your gums before drilling tiny holes in your jawbone. Once they place the implants in your jaw, we will wait around 3 to 4 months. During this time, your implants will integrate with your bone, creating a lifelong support for dental restorations.
Once the osseointegration process is over, you'll come back into our office for the placement of your denture. We will ensure that you're happy with its look and feel before permanently fixing your denture to your implants. The result is a strong, beautiful, and reliable smile.
Benefits of Combining Dentures & Dental Implants
Implant-retained dentures offer our patients benefits that they can't receive with any other option, including:
Strength: Rooted in the jaw, dental implants stabilize your denture, allowing you to chew all of your favorite foods with ease.
Health: Dental implants stimulate your jawbone to prevent it from deteriorating after tooth loss.
Confidence: Dental implants secure your denture, allowing you to confidently talk, eat, and laugh in public without worrying about your teeth shifting around.
Longevity: Dental implants themselves can last for a lifetime, and they can even help you get more out of your denture.
Are you ready to improve your quality of life with these advantages? Contact our office to take your first step toward a strong, healthy, and beautiful set of teeth.