Preventive Dentistry – Stephens City, VA
Stability For Your Smile
For Thomas A. Gromling, DDS, his primary goal is to give his patients the kind of smile that they never have to worry about. It's healthy, it's beautiful, and it's the last thing on anyone's mind. To accomplish this, he provides a variety of services that focus solely on prevention. These treatments are all designed to catch problems early and even stop them before they begin. They'll not only help you maintain a strong and reliable set of teeth, but they'll also save you from needing more expensive treatments over time! To schedule an appointment so we can safeguard your smile today, give us a call.
Why Choose Thomas A. Gromling, DDS for Preventive Dentistry?
Happy to serve every generation of the family
Nearly 40 years of experience
Accept & maximize all insurance
Dental Checkups & Cleanings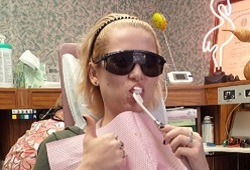 Checkups and cleanings not only help us get to know you and your dental health, but they also enable us to find any decay or damage in your mouth before it can become a real issue. Dr. Gromling will take a close look at your teeth, gums, and bite to make sure everything is in good shape, and he'll go over your treatment options if you need anything extra. And, cleanings will allow our hygiene team to remove harmful plaque and tartar from your teeth that you can't at home, keeping you protected from future cavities.
Learn More About Dental Checkups & Cleanings
Nightguards for Bruxism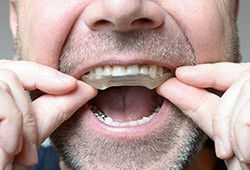 "Bruxism" is a word that many people aren't familiar with, but millions actually experience it every time they go to sleep. It refers to nighttime teeth grinding, and this unconscious habit affects about 1 in 3 Americans, including some children! This can really damage the teeth over time, but something called a nightguard can help keep them safe. It's a custom-made mouthguard worn only to bed, and Dr. Gromling can design one just for you that fits over your teeth and prevents them from coming together during the night.
Oral Cancer Screenings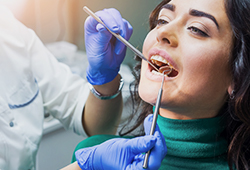 Did you know that one person loses their life to oral cancer each and every hour? Early detection and treatment are essential to overcoming this disease, but its initial symptoms can be very easy to miss. This is why Dr. Gromling and our team always examine our patients for any signs of oral cancer whenever they come to see us. If we spot anything concerning, we can arrange for a biopsy so a patient can get a diagnosis and any necessary treatment right away.
Learn More About Oral Cancer Screenings
Fluoride Treatments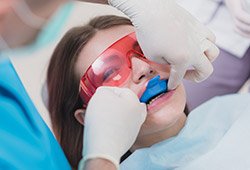 Regular exposure to fluoride is essential to keeping tooth decay at bay, which is why you'll usually find it added to many kinds of toothpaste as well as community water sources. You'll find it in our office as well, and we can give you and your loved ones a topical fluoride treatment at your routine checkups. We simply apply a fluoride solution to the teeth for a minute or so, and it literally remineralizes the enamel, strengthening the parts that have been broken down due to oral bacteria and acids, making it much more resistant to cavities.
Children's Dentistry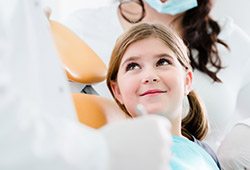 Dr. Gromling first started practicing dentistry in 1980, and these days, he finds himself treating the children of his former child patients! He understands just how important early-age dental experiences are for a child's long-term oral health, which is why he and the rest of our team will bend over backward to make sure that your little one is always comfortable in our office. We have a number of services specially designed for growing smiles to help keep them protected from cavities, including dental sealants and fluoride treatments.
Gum Disease Treatment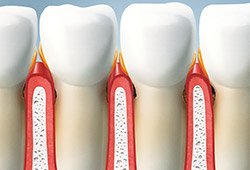 Just like your teeth, your gums need to be cleaned regularly to keep them healthy. Otherwise, they can develop an infection called periodontal disease, which can cause redness, swelling, and oral bleeding. If we spot it in a patient, a scaling and root planing treatment can quickly take care of it. It's like a specialized dental cleaning that focuses just on the gum line and can remove damaging bacteria from the tiny spaces between the teeth and gums where periodontal disease tends to thrive.
TMJ/TMD Therapy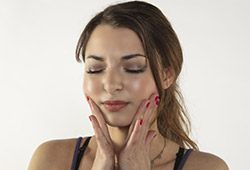 If you open your mouth, those little joints next to your ears are your TMJ or temporomandibular joint. It's very sensitive, and if it gets out of balance (whether due to a crooked bite, an injury, or arthritis), this can lead to a stiff jaw, chronic headaches, earaches, and even pain in the neck and shoulders. Dr. Gromling can help diagnose these kinds of problems and prescribe a number of therapies designed to improve the functionality of the jaw while also providing long-term pain relief.