Metal-Free Dental Restorations – Stephens City, VA
Protect Teeth Without Compromising Your Looks
At the office of Dr. Thomas Gromling, we do not just want you to feel good about your teeth, but to know that you look good too! That is why we offer metal-free dental restorations in Stephens City for patients with damaged or decayed teeth. Unlike traditional restorative treatments that use silver or other metals, metal-free dental restorations enhance the health and function of your teeth without sacrificing aesthetics. You will love the attractive and effective results of metal-free restorations from Dr. Gromling!
Why Choose Dr. Thomas Gromling for Metal-Free Dental Restorations?
Natural-Looking Restorations Blend in with Your Smile
Quality Materials Deliver Attractive Results
An Experienced and Friendly Cosmetic Dentist Near You
What are Metal-Free Dental Restorations?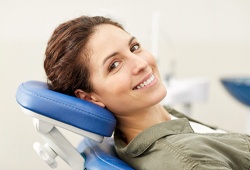 Metal has been used for many years as an inexpensive and durable material for dental restorations. However, metal is not biocompatible and is more easily noticed by others due to its dark color. For these reasons, many patients today are increasingly opting for ceramic or composite resin material for the following restorations:
Fillings – Restore tooth function and appearance after a cavity and prevent further decay.
Dental Crowns – Strengthen damaged or decaying teeth, restore dental function and boost tooth appearance.
Bridges – Restore a gap left by one to three consecutive missing teeth.
Inlays and Onlays – Repair teeth with mild to moderate decay or factures.
Whether you need a filling to repair damage from tooth decay or a bridge to replace missing teeth, metal-free restorations blend in seamlessly with the natural appearance of your smile. The only people that will know you have had restorative dental treatment are you and Dr. Gromling!
Benefits of Metal-Free Dental Restorations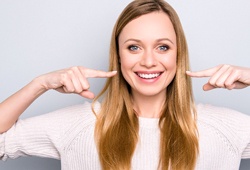 Of course, one of the most significant advantages of metal-free restorations is their natural appearance. Your new crown, filling or inlay can be color-matched to blend in impeccably with the rest of your smile. In addition to being aesthetically superior to metal alternatives, tooth-colored restorations provide a range of benefits, including:
Improved Confidence: You can speak, smile and eat without feeling insecure knowing your smile looks fantastic!
Hypoallergenic: Avoid triggering metal allergies or sensitivities with metal-free restorations.
Strengthens Teeth: Restore the appearance and the function of your tooth while preventing future decay or other issues.
Long-lasting: With proper care, you can expect your metal-free restorations to last an average of 10 years before needing replacement.
Biocompatible: The materials used for metal-free restorations are a healthier alternative to previous options, which sometimes contained small amounts of mercury.
What Can I Expect During the Process?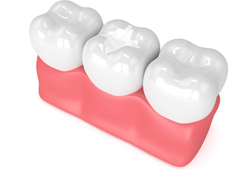 While the treatment process for different types of metal-free restorations varies slightly, the results are always the same: natural-looking protection against tooth decay and restored dental function. Here is some information on what to expect when you partner with Dr. Gromling, an experienced cosmetic dentist in Stephens City, for two of the most common restorative treatments.
Tooth-Colored Fillings
First, we clean your tooth and prep it with a weak acid to facilitate the bonding process. Next, we rinse your tooth before carefully applying the composite resin material onto the affected area and sculpting it into the ideal shape. Finally, we use a special curing light that quickly hardens the filling in place, protecting your tooth from further decay.
Tooth-Colored Crowns
First, we prepare and shape your tooth before taking an impression. The impression of your tooth is used to craft a custom restoration that perfectly meets your unique size, shape and color needs. A custom crown will be made by our trusted partners in a quality dental lab, a process that can take several weeks. In the meantime, we attach a temporary crown to your tooth to protect it from damage. Once your new restoration is ready, we welcome you back for a second visit, during which we bond the crown in place.
Schedule an Appointment Today!
Protect your teeth from further decay or damage without compromising your appearance by choosing metal-free dental restorations in Stephens City. Contact our office to schedule an initial consultation with Dr. Gromling today!