Dentures & Partials Dentures – Stephens City, VA
Discover Your Options for a Complete Smile
Although no one expects it to happen to them, tooth loss is a real problem. A single missing tooth can complicate your life but losing several or all your teeth can be devastating. Not only do you lose your self-esteem but also your ability to chew many of your favorite foods. This can severely limit your diet, leading to nutritional deficiencies that impact your overall health. Dr. Thomas A. Gromling can rebuild your smile with dentures in Stephens City. Now, new innovations in dentistry make them look and feel more realistic than ever before.
Why Choose Dr. Thomas A. Gromling
Supported by nearly 40 years of experience in dentistry.
Embraces the latest technology and methods for high-quality care.
Strong and reliable replacement options.
What are Dentures?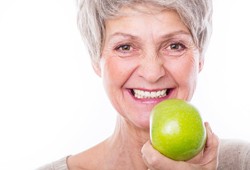 Let's face it, dentures have a bad reputation for looking and feeling fake, but you will quickly find the rumors are unfounded. Several advancements have been made to the materials and process used to make them. Now, they look more natural than ever.
Dr. Gromling takes an impression of your mouth to create an acrylic base to hold your prosthetic teeth. They are customized to match the appearance of your real ones so no one will be able to tell they are not your own.
Depending on how many teeth you are replacing, the type of denture will vary. Dr. Gromling evaluates your oral health and discusses the results you want to achieve to help you make the right choice for your smile.
Complete Dentures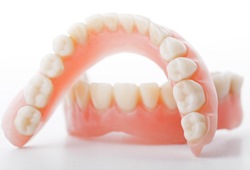 An entire arch of missing teeth is replaced using a complete denture. An acrylic base is carefully crafted to match the color of your gums while also offering a secure fit. Porcelain teeth are placed in the arch to mimic your natural ones. The base is held in place using suction or an adhesive to minimize any slipping or irritation, so you can chew, speak, and smile confidently.
Partial Dentures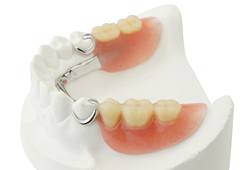 If you still have a few healthy teeth, you can complete your smile with partials in Stephens City. An impression of your mouth is taken to fill the empty spaces with prosthetic teeth that are attached to a gum-colored base. The partial has a metal framework that allows it to clip or clasp onto your remaining teeth to hold it in place.
Implant-Retained Dentures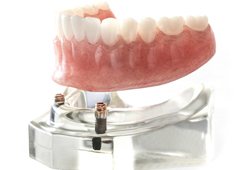 Now, many people have come to enjoy the security of dental implants. A specific number of implant posts are surgically placed into your jawbone to mimic the roots of your teeth. This also allows you to stabilize your denture without using the support of your remaining natural teeth, suction, or an adhesive. You will never need to worry about slipping or irritation while enjoying a treatment that can last for several decades.
Schedule an Appointment Today!
You can overcome the challenges of tooth loss using partials or dentures. If you are ready to rebuild a beautiful smile, contact our dental office today to schedule your consultation with Dr. Gromling.