How Dental Implants Work – Stephens City, VA
Investing in Your Quality of Life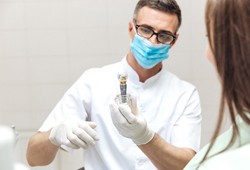 Beginning a complex and lengthy procedure can cause some patients to feel anxious because they're not sure what to expect. Whether you're getting an implant-retained bridge, crown, or denture, Dr. Thomas Gromling will lay out your entire treatment plan step-by-step for you. As you're reading the general process that we've highlighted below, keep in mind that every patient's timeline varies because every mouth is unique. To get the process started and a detailed outline of your procedure, contact our office to schedule your dental implant consultation with Dr. Gromling.
Why Choose Dr. Thomas Gromling For Dental Implants?
Advanced Dental Technology
Highly Experienced Dentist
Locally Owned and Operated Practice
Initial Dental Implant Consultation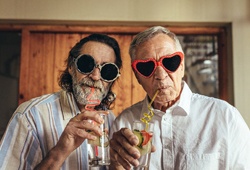 The first, and one of the most important steps on your journey towards getting a revitalized and fully-functioning set of pearly whites, is your initial consultation. This visit creates the foundation for the rest of the process. During your appointment, Dr. Gromling, your implant dentist, will inspect your oral health and take several digital X-rays and images of your facial structure. Using the information he collects during this visit, he'll create a detailed timeline of your procedure and determine the following:
What type of restoration is needed.
The cost of the procedure.
How many implants need to be placed.
Whether any preparatory procedures are required.
Dental Implant Surgery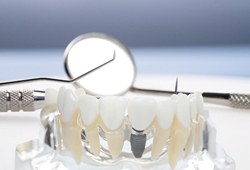 Once you've had any necessary treatments, such as bone grafts, tooth extractions, or gum disease therapy, we can schedule your dental implant surgery. Dr. Gromling partners with some of the best oral surgeons and periodontists in his area. They have placed thousands of dental implants, so patients are sure to feel safe under their care.
The length of the procedure will depend on several factors, including where your implants need to be placed and how many you need. Our oral surgeons will create a small incision in the gums to place the implant underneath, acting as a replacement for the root of your missing tooth. They'll then place caps over them for protection while you begin your healing process.
Dental Implant Osseointegration & Abutment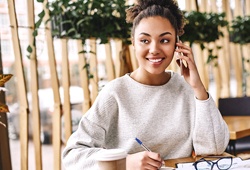 After your surgery, you'll undergo a healing process that takes several months. This is imperative to the success of your restorations and allows time for the implants to fuse with your jawbone through a process called osseointegration. Depending on your health and how extensive your surgery was, it may take between three and six months for everything to fully bond and heal.
We'll then call you back in to place the abutments, which are small metal connector pieces that will securely connect your restorations to the titanium posts. To make sure your restorations are crafted to look natural and comfortably fit in your mouth, we'll take impressions to send off to our dental laboratory to create your bridge, crown, or denture.
Placement of Dental Implant Restorations
When we receive your individualized replacement tooth or teeth that are made to our specifications, we'll call you in for your final appointment. We'll start off by removing your temporary restoration so we can attach your permanent ones. Once we're through, you'll be able to enjoy a beautiful refreshed smile that's fully functioning, allowing you to eat and speak with ease and confidence.