Single Tooth Dental Implants – Stephens City, VA
Completing Smiles with Beauty & Strength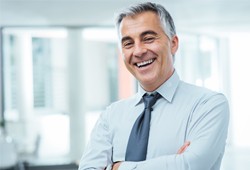 If you're like millions of other Americans, you may have a missing tooth. You might be familiar with the ways that a single missing tooth can take away from your appearance, but did you know that it can have negative effects on your health? Unlike other medical conditions that get better with time, dental problems will only grow worse if left untreated. Without receiving a single tooth replacement, your remaining teeth may shift, your jawbone will begin to deteriorate, and you can even suffer from additional tooth loss. Keep reading to learn how Dr. Thomas A. Gromling can replace your single missing tooth.
Why Choose Thomas A. Gromling, DDS for Single Tooth Dental Implants?
Personalized dental restorations
Dentist with almost 4 decades of experience
State-of-the-art dental technology
Single Tooth Replacement Options
Dr. Gromling offers two options for replacing a missing tooth: a fixed bridge or a dental implant.
Fixed Bridge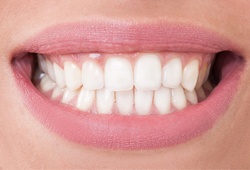 A fixed bridge, also called crown and bridge tooth replacement, restores the visible portion of your missing teeth. This is done by permanently attaching a custom-made prosthetic to crowns that are mounted on your remaining teeth. This prosthetic literally bridges the space in your smile, and it's connected to two crowns on either side of the gap. A slight portion of your dental structure must be removed to accommodate the dental crowns.
Single Tooth Implant
Unlike a fixed bridge, a single tooth dental implant will replace your entire tooth from the root up. A dental implant is a titanium post that is surgically placed in your jawbone to act as an artificial tooth root. This sturdy and strong replacement comes with a number of unique benefits, and it doesn't require altering any remaining dental structure. After a small incision is made, a tiny hole will be drilled into your jaw, where an implant is placed. Then, we will allow at least 3 to 4 months for your implant to completely fuse to your jawbone. Lastly, you'll come into our practice, where we will place a custom-made dental crown on top of your implant for a strong, beautiful, and seamless tooth replacement.
The Benefits of Implant-Supported Single Tooth Replacement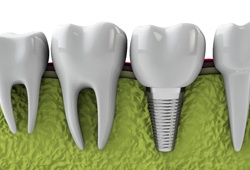 While receiving any type of replacement is better than none at all, a single tooth implant can bring you advantages that you won't get with any other option, including:
Rooted in the jawbone, implants preserve the health of your remaining teeth instead of removing dental structure for crowns.
Dental implants are the only replacement that stimulates your jawbone to prevent deterioration after tooth loss.
Because they're planted in your jawbone, a single tooth implant will look, feel, and function more naturally than any other option.
With proper care, dental implants can last for a lifetime. Just be sure to brush, floss, and maintain regular checkups and cleanings with our office.
Contact Dr. Thomas A. Gromling Today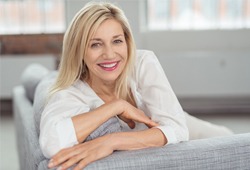 Now that you know the importance of replacing your missing tooth, why wait? Call our office today to request an appointment and take your first step towards a beautiful and healthy smile with Dr. Gromling.