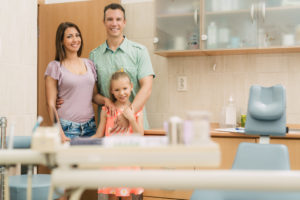 Between school, work, and weekend playdates, coordinating an entire family's dental appointments can seem like an impossible task. This is especially true when children, their parents, and perhaps even their grandparents all have different dentists. Why not simplify things? Here are 5 major benefits of choosing a family dentist in Stephens City.
#1. Simplify Your Family's Dental Care                                            
One of the biggest benefits of choosing a family dentist is convenience. Scheduling multiple appointments at different dental offices around town for each family member can be a major pain in the neck. With a family dentist, a single phone call is all it takes to schedule checkups for your children, yourself and your parents! Many family dentists even offer block scheduling for families. This means that the entire family can get the preventive dental care they need within the same convenient window of time.
#2. More Dental Care Services Available
Young children have different dental care needs than their parents. Similarly, adults may require a different type of attention from their dentist compared to senior citizens. For this reason, many family dentists offer a wide range of dental services. From orthodontic treatment to straighten a pre-teen's smile to full dentures for their grandparents, a family dentist can do it all under a single roof!
#3. Build Personal Relationships
When you stick with the same family dentist in Stephens City for years or even decades, a relationship built on trust naturally develops. This relationship can help family members feel comfortable enough with their dentist to raise any concerns they may have about their teeth. In addition, when serious dental problems do arise, you can rest easy knowing that your dentist will recommend a personalized treatment plan designed just for you.  
#4. Track Your Dental History
Switching from a pediatric dentist to a general dentist when your kids get older is an easy way for dental charts and paperwork to get mixed up and fall through the cracks. By choosing a family dentist in Stephens City, you can rest assured that dental records for you and your family are always up to date. Accurate dental records are important for tracking your dental history and choosing the best treatment options.  
#5. Set a Positive Example Early
Finally, by making trips to the dentist a family affair, you can set a positive example for your young children. Visiting the dentist together with your kids can help highlight the importance of oral health. In addition, knowing that a parent is just in the next room can help ease kids' anxiety about visiting their dentist.
Consolidate your family's dental care to simplify your life! Don't wait to find the right family dentist in Stephens City for you.
About the Author
Dr. Thomas Gromling has provided quality dental care to families in Stephens City for nearly 40 years.  These days, he can often be found treating multiple generations of the same family at the same time! From preventive sealants for kids to dentures and dental implants for older patients, Dr. Gromling and his talented team can do it all! To learn more about the benefits of complete family dentistry, visit Dr. Gromling's website or call 540-869-4377.