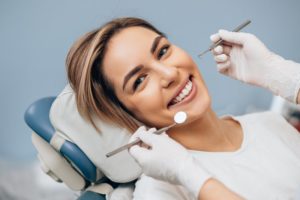 If you're like most people, you're sure to brush your teeth at least once a day. However, flossing is a slightly more time-consuming preventive measure. Thus, it's easy to slack off in this department. A dentist in Stephens City says skipping flossing can be a big mistake. Find out why as you continue reading!
The Two Pillars of Dental Hygiene
When it comes to keeping oral bacteria at bay and maintaining healthy teeth and gums, it's a must to brush and floss in tandem. That's because the bristles of a toothbrush can only clean around 60% of the surfaces of your teeth, but when you add flossing to the equation, you can clear away debris in the remaining areas.
Other Reasons Why Flossing is So Important
Here are some of the other benefits of flossing consistently:
Prevents plaque accumulation
It doesn't take long for bacteria to solidify into plaque. Within a few hours of eating a meal, the hardening process begins. If neglected, the newly formed plaque can start releasing tooth-decaying acids within 48 hours. To make matters worse, once plaque hardens, it can only be removed by a dentist.
Your gums will stop bleeding
One of the primary causes of gum bleeding is plaque that has seeped beneath the gum line, irritating the soft tissue and forming gum pockets. This can lead to bleeding when you brush your teeth and eat certain foods.
The rest of your body will be healthier
Plaque doesn't just settle in your mouth. If not removed, it can travel to other parts of your body to cause inflammation. It can become especially problematic if it reaches the arteries, as it can cause life-threatening blockages.
You'll have stronger teeth
Like plants to soil, your teeth are dependent on healthy and strong gums for their maintenance. By flossing daily and removing the plaque and debris between your teeth, you can better ensure functional and resilient gum tissue.
It will protect your brain
If you're still wondering why flossing is important, studies have found that a strand of bacteria found in the mouth have the ability to bypass the blood-brain barrier. This can increase the risk of developing Alzheimer's disease, a condition that is becoming more prevalent. Protecting your teeth and gums could very well enhance your brain function and extend your life.
The benefits of flossing extend beyond just boosting your health. It also plays a major role in your smile aesthetics. When you add them up, these perks are well-worth putting forth a little extra effort!
About the Author
Dr. Thomas A. Gromling earned his dental degree from the Medical College of Virginia at Virginia Commonwealth University. He has since gone on to provide nearly 40 years of superb dental care. Along the way, Dr. Gromling has received advanced training from such organizations as the L.D. Pankey Institute Continuum for Advanced Dentistry and the Dawson series of continuing education. He offers preventive dentistry at his private practice, and he can be reached for more information through his website.