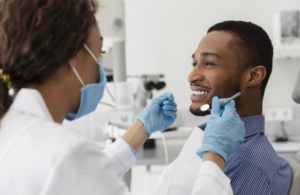 At the beginning of 2021, experts estimated that 54,000 people in the U.S. would be diagnosed with oral cancer. They also projected that nearly 10,000 people would die from this disease. That's certainly no small number! Fortunately, early detection can greatly reduce the death rate, which is why your dentist in Stephens City screens for oral cancer during every dental checkup. Keep reading to learn about five ways that you can minimize your chances of developing this devastating disease.
Quit Smoking
It's not exactly a secret that smoking is bad for your health. Cigarettes and other tobacco products, including chewing tobacco, contain large amounts of carcinogens. There is even evidence to suggest that smoking weakens your immune system, making it harder for your body to fight off oral cancer if it develops. Your dentist or primary care physician can provide you with resources to help you kick this harmful habit.
Go Easy on the Alcohol
Studies have shown that excessive drinkers have an increased risk for oral cancer. Many alcohols have a high concentration of acid, which can irritate and damage cells in the mouth and throat. When these cells attempt to repair or replicate themselves, their DNA might be altered, causing cancer to develop. If you choose to drink, do so in moderation.
Get Vaccinated Against HPV
According to the Centers for Disease Control, the human papillomavirus (HPV) currently affects almost 80 million Americans. While this virus is usually harmless and can often resolve itself, it can sometimes lead to various types of cancer, including oral cancer. Ask your doctor about the possibility of getting an HPV vaccine.
Protect Your Lips from Overexposure to Sunlight
Spending time in the sun can boost your mood and strengthen your immune system, but too much sunlight increases the risk of cancer on your lips. If you're going to spend time outdoors, shield your lips by wearing a wide-brimmed hat and a lip balm with SPF.
Visit Your Dentist Regularly
As part of every routine checkup, your dentist performs an oral cancer screening. This simple, noninvasive exam could alert you to cancerous or pre-cancerous tissue, allowing you to seek treatment before it spreads to other areas of your body.
Oral cancer is no laughing matter. Luckily, taking the right precautions can keep your smile and your body safe from this disease.
About the Author
Dr. Thomas A. Gromling is a dentist in Stephens City, VA with almost 40 years of experience in the field. He stays updated with the latest advancements in dentistry through his various professional memberships. In fact, he has become a Fellow of the Academy of General Dentistry, the American College of Dentists, and the International College of Dentists. He prioritizes prevention of dental health problems, which is why he screens for oral cancer at every checkup. To learn more about reducing your risk for oral cancer, visit his website or call his office at 540-869-4377.