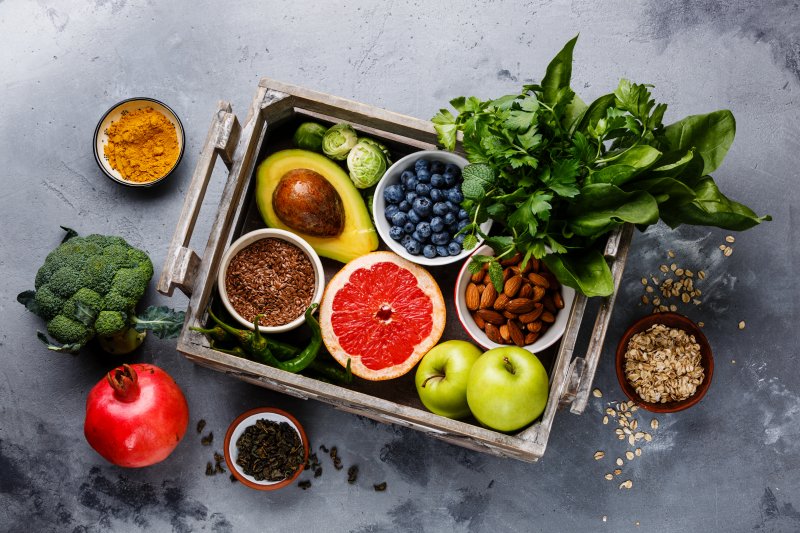 Want your smile to remain cavity-free year-round? It's normal to want sweet and starchy food now and then, but if they make up a majority of your diet, you'll soon find yourself battling a toothache or having a restorative treatment to address dental decay or gum disease. By swapping them out for healthier alternatives, you will find that your waistline will not only improve but so will your teeth and gums. Here are 4 foods that benefit your oral health and will work to strengthen tooth enamel, improve the health of your soft tissues, and give you the energy and confidence you need.
Why Are Sugars and Starches Bad for Your Teeth?
Unless your dinners consist of nothing but potatoes, pasta, and cookies, there's a good chance most of your sugar and starch consumption comes from snack foods. Chips, bread, candy, and other sweets can wreak havoc on your teeth and gums. Why? Because their contents leave your pearly whites vulnerable to tooth decay, which will only lead to cavity formation. When sugars and starches remain on your teeth, your saliva cannot neutralize harmful acids that break down your tooth enamel. The only way to treat this type of problem is to have a filling or crown. If left untreated, it can lead to worsening oral health problems (i.e., the damaged pulp that requires root canal therapy or an abscess that leads to tooth removal).
Which Foods Are Best for Better Oral Health?
To avoid the potential for tooth decay and growing cavities, it's best to make changes to your diet. This includes both the food you eat and the beverages you consume. Some of the nutrient-rich options you can incorporate include:
Nuts and lean proteins – Lean meats like chicken, fish, and even tofu contain valuable protein and phosphorous that will positively benefit the health of your teeth. Nuts will also help to stimulate your saliva production, washing away debris from your mouth, as well as provide calcium and protein without the added sugar.
Dairy – Speaking of good sources of calcium, dairy products like cheese and yogurt are ideal if you want to strengthen your tooth enamel. Just make sure you're not reaching for flavored or sweetened yogurts, as this will only put you at risk for cavities.
Fresh fruit and vegetables – Apples, celery, carrots, and other raw, hard fruits and vegetables can be beneficial in a way you might not think about. Because of their consistency and texture, they're great for scrubbing away left behind debris on your teeth. They're also great for including healthy amounts of fiber and vitamins A and C into your diet.
Leafy greens – Yes, kale, spinach, collard greens, and other leafy greens are great for keeping your calories low and your stomach full. Containing minerals and vitamins and that are great for your smile, you'll want to make sure to avoid heavy dressings or toppings to prevent decay.
Also, remember to drink plenty of water instead of soda, wine, or energy drinks. Their sugar and high acidity will prove harmful to your teeth over time.
Don't continue to sabotage your oral health. Making healthy food choices today will ensure that your smile remains fully intact for years to come.
About the Author
Dr. Thomas Gromling has nearly 40 years of experience in dentistry. Completing his dental degree at the Medical College of Virginia at Virginia Commonwealth University in 1979, he regularly participates in opportunities to pursue continuing education at the L.D. Pankey Institute Continuum for Advanced Dentistry, the Misch Implant Institute restorative program, and the Dawson series. Dr. Gromling is here to keep your teeth and gums healthy with preventive care. With regular checkups and cleanings and other unique services, he will not only remove harmful plaque and tartar that can cause gum disease but also provide valuable resources and information to practice good oral habits and healthy nutrition that will benefit your smile. If you need help making positive choices for you and your family, contact us at (540) 869-4377.