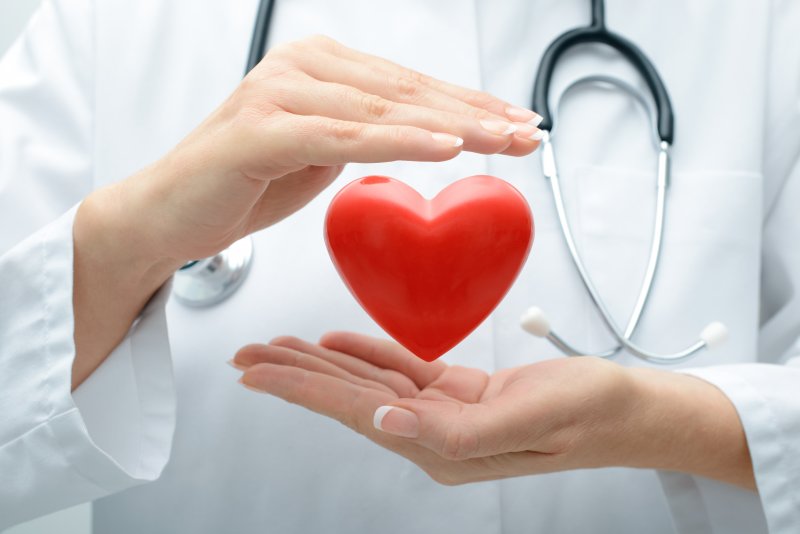 Valentine's Day usually steals the spotlight when February rolls around, but you shouldn't forget to take some time to learn about your heart this month. Why? It's American Heart Month! Since our heart is the most powerful muscle in our bodies, it's incredibly important that take special care of it. Believe it or not, your smile is one significant aspect that can directly impact your cardiovascular health. Read on to learn more about this connection and what you can do to keep your overall health in its very best shape.
How Does Oral Health Affect Your Heart?
Studies have revealed a connection between oral infections and heart disease. The bloodstream acts as a transportation for harmful bacteria, which can build up and contribute to certain problems like abscesses and gum disease. An abscess is a pus-filled sac that forms at the tip of an infected tooth or in the gums to the side of the tooth. Meanwhile, gum disease is an infection that develops beneath the gum line, causing your gums to swell and bleed. If you fail to seek treatment, your gums may begin to pull away from your teeth. The infection can also spread and possibly become life-threatening if the abscess dissolves into the body.
The Effects of Gum Disease
Periodontal disease, or gum disease, is an infection of the tissue caused by excess plaque buildup. It's incredibly important that you seek treatment as it can cause bleeding gums, chewing problems, and even tooth loss. Also, people with gum disease are two to three times more likely to have a heart attack, stroke, or another cardiovascular event.
A heart attack happens when the blood flow to a certain part of the heart is blocked by a blood clot. If the clot stops blood flow completely, the part of the muscle supplied by the affected artery begins to die. The good news is that you can lower your risk of these issues by taking proper care of your teeth and gums.
Tips to Maintain Good Overall Health
Maintaining good oral health is one of the best ways to keep your heart healthy. That said, here are a few tips to keep in mind:
Practice good oral hygiene. Brush twice a day, floss daily, and rinse regularly with an ADA-approved mouthwash.
Visit your dentist regularly. Make sure you visit your dentist every six months for a checkup and cleaning to ensure there are no problems developing.
Kick bad habits to the curb. Avoid smoking or using tobacco products as those habits can increase your risk of gum disease.
Keeping your heart healthy starts with your smile. By following the tips outlined above, you can ensure your overall health stays in optimal condition during this lovely month!
About the Author
Dr. Thomas Gromling has nearly 40 years of dentistry experience under his belt. Since earning his Doctor of Dental Surgery in 1979, he's attended numerous hours of continuing education courses to grow and refine his skill set. If you'd like to learn more about the connection between your smile and cardiovascular health, you can reach Dr. Gromling via his website or call (540) 869-4377.