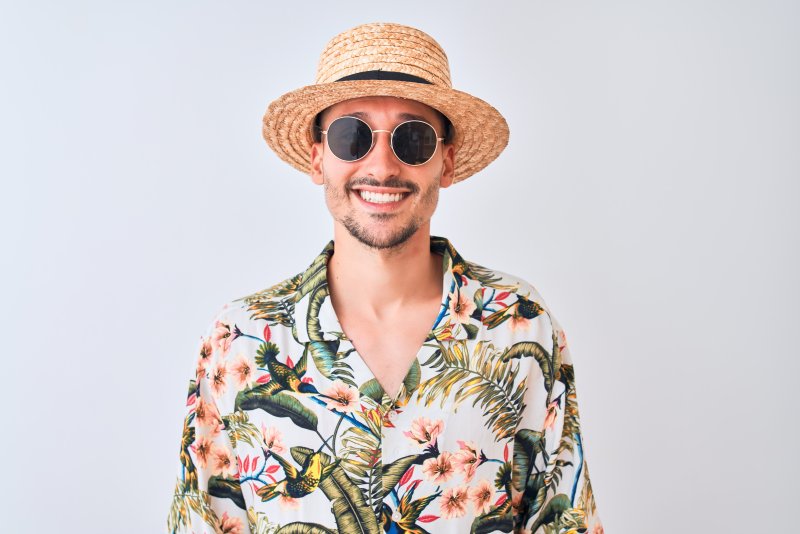 Now that summer is right around the corner, it's time for a well-deserved vacation! Whether you're heading to the beach or traveling abroad, you'll want to stay hydrated and enjoy all the tasty beverages during your trip. You may also want to maintain good dental well-being while you're out there, that way you can make the most of your smile. Keep reading to learn a few oral health tips to practice this summer from your dentist in Stephens City!
Tip #1: Drink Plenty of Water
Water is one of your greatest allies for preserving your pearly whites. Not only does it keep you hydrated, but it also keeps your mouth moist throughout the day. Similar to your saliva, drinking plenty of water helps to wash away debris and plaque-causing bacteria. It can even clear off bad odors, allowing you to have fresher breath.
Tip #2: Choose Fluoridated Water
Most tap water sources are fluoridated, meaning they can help you fight against cavities and decay. By drinking straight from the tap, the ingredients in it will strengthen your tooth enamel in the long run. Check if your city or county adds fluoride to their water supply to be sure!
Tip #3: Avoid Carbonated Liquids
While many carbonated beverages are tasty and sweet, they are also highly acidic. The more you drink these kinds of liquids, the higher your risk of wearing down your enamel over time. Try avoiding carbonated liquids, or rinse your mouth afterward at the very least.
Tip #4: Sip Through a Straw
If you do choose to drink acidic beverages, then you might consider using a straw to do so. This can help the liquids bypass your teeth or minimize contact with them. You should also try finishing your drink quickly instead of sipping it for a long period.
Tip #5: Visit Your Dentist Beforehand
Since you might be heading out for summer vacation, you'll want to ensure that you spend your trip in good health. For this reason, it's a good idea to see your dentist for a checkup and cleaning before you go. They can help monitor your oral health, polish your teeth, and address any issues they may detect. They'll also offer advice on the best practices for preserving your smile, that way you can enjoy your vacation to the fullest.
Try practicing these few tips during your summer for a healthier smile! And with your dentist's help, you can feel confident in maintaining overall good dental health.
About the Author
Dr. Thomas A. Gromling earned his dental doctorate from the Medical College of Virginia at Virginia Commonwealth University and has delivered outstanding care for over four decades. He continues to seek advanced training to improve his expertise through his membership in several groups including the Academy of General Dentistry, and the American and Virginia Dental Associations. He provides multiple comprehensive treatments, from checkups/cleanings to restorative procedures, to help you maintain strong teeth. If you'd like to schedule an appointment before summer vacation, visit his website or call 540-869-4377.