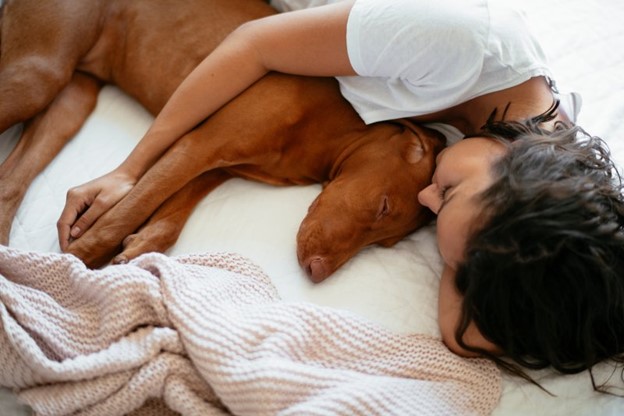 We all want the best for our furry best friends. And if that means letting them sleep in our bed with us, most would probably be very open to sharing their space. According to surveys of hospital patients in 2002 and 2015, 50 percent of participants had pets at home, and half of those with pets allow them to sleep in their bed at night. Interestingly, there's research from Mayo Clinic's Center for Sleep Medicine that suggests sleeping with your pet may not be improving your quality of sleep if you have sleep apnea. Here's what we know about pets and sleep apnea in Stephens City.
What We Know About Pets and Sleep
A recent study done by the Mayo Clinic measured the sleep efficiency of volunteering participants. Sleep efficiency is a number that presents the ratio of the amount of time asleep divided by the total amount of time in bed. The average sleep efficiency rating in the study was 81 percent, which is considered normal according to Dr. Jeffrey Durmer, co-founder and chief medical officer at FusionHealth.
The research also found that sleep efficiency was the highest when individuals slept with a partner or a medium-sized dog (between 21 and 50 pounds). The pets in the study were in the room, not the bed itself. Alternatively, sleep efficiency was lowest in the study for those who slept without a partner and had a small dog in the bed.
In other words, the study found that sleeping with pets in your bed may slightly affect sleep efficiency, but not severely.
The Benefits of Sleeping with Pets
While sleep efficiency may be slightly impacted by sleeping with your pet, there is research to suggest that having pets in your bed can offer comfort and relaxation for some.
Dr. Rafael Pelayo, clinical professor of psychiatry and behavioral sciences at Stanford Center for Sleep Sciences and Medicine said of the finding, "I can understand why somebody who feels comfortable with a dog would like the dog to be there at night…It gives them a measure of safety."
Pets and Sleep Apnea
Obstructive sleep apnea (OSA) is a disorder that causes disruptions to your breathing while you sleep. The soft tissues in the throat will block the airway, causing a lack of oxygen that wakes the person up repeatedly throughout the night. If left untreated, it can lead to a range of health problems.
If you have sleep apnea, it's unfortunately not recommended that you share your bed with your pet. That's because their extra movements can cause further disruption to your sleep and worsen your condition, leading to even poorer sleep quality. Furthermore, if you have any allergies to pet dander, this can cause further respiratory issues and exacerbate your symptoms.
However, if you are receiving treatment for sleep apnea, you may find that your pet does not cause additional sleep disruptions. You can properly manage OSA with oral appliance therapy, which unlike a CPAP machine, is far more comfortable and less awkward.
Regardless of whether you chose to sleep with your pet or keep them out of your bed, you have options to improve the quality of your sleep if you suffer from sleep apnea.
About the Author
Dr. Gromling has nearly 40 years of experience providing expert care to his patients. He received his DDS in 1979 from the Medical College of Virginia at Virginia Commonwealth University and went on to pursue continued training in obstructive sleep apnea treatment. He is a member of the American Dental Association, the Virginia Dental Association, the American Academy of Dental Sleep Medicine, and is a Fellow of the Academy of General Dentistry. If you have questions about treating your sleep apnea, visit his website or give him a call at (540) 869-4377.