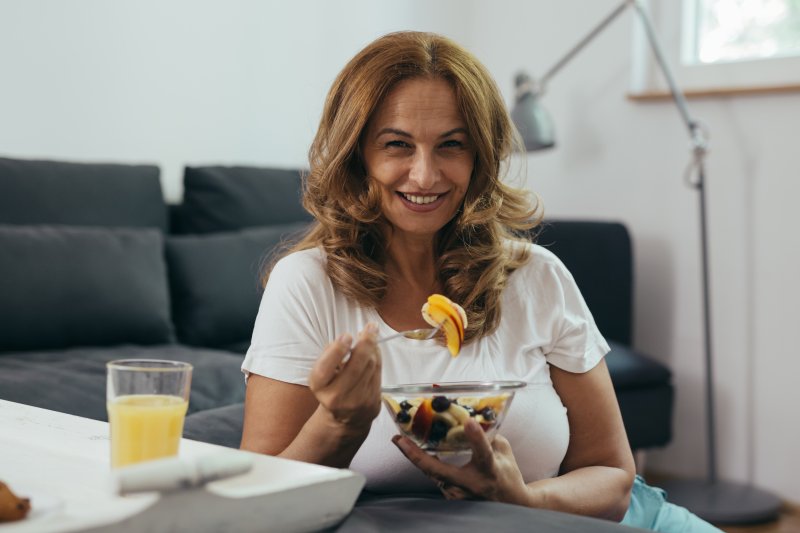 If you're missing one or more teeth, you know just how difficult it can be to complete daily tasks, like eating, speaking clearly, and smiling with confidence. Fortunately, there are several different tooth replacement options out there that can restore the appearance and function of your smile, like dental implants. With summer being in full swing, you may be wondering how your new dental implants will affect your diet. Continue reading to learn about the different summer foods you can enjoy after dental implant surgery.
Which Summer Treats Can You Have After Your Dental Implant Procedure?
Before your dental implants have completely healed, you should take it easy when it comes to the textures of foods that you are eating regularly. Here are a few that you can enjoy in the meantime:
Avocado
Baked Beans
Scrambled Eggs
Bananas
Noodles
Fish
Rice Bowls
Smoothies
Which Summer Foods Should Be Avoided After Dental Implant Placement Surgery?
When your dental implants are still fusing with the jawbone, it is a good idea to avoid the following:
Corn on the Cob: It can be challenging and hard on your implants to attempt to eat corn on the cob. Instead, cut it off the cob so you don't accidentally disturb the healing process.
Hot Dogs: A hotdog can seem like the perfect lunch on a summer day, but it is loaded with processed saturated fat. This can lead to gum inflammation and gum disease. It's usually okay to enjoy one every once in a while, but you should save them for special occasions.
Sugary Drinks: Soda, fruit juice, lemonade, sweet tea, and energy drinks are all awful for your natural teeth. Even though they don't cause much harm to your replacement teeth, they could damage your surrounding ones and cause dental issues in your mouth.
Hard Foods: This includes chips, nuts, and apples. They can be hard on your implants as they are still fusing with your jawbone. You should avoid them until the healing process is complete.
What Foods Can You Have After Your Implants Have Healed?
You can pretty much enjoy anything you'd like with caution once your implants have completely fused to the jawbone. This includes meat and other meals that are more difficult for you to chew. If you aren't quite sure about a food item in particular, give your dentist a call. This way, they can give you the best advice for your unique smile.
You don't need to worry about restricting your diet once your smile heals. With some patience, you'll be enjoying your favorite summer snacks again in no time!
About the Author
Dr. Thomas A. Gromling is an experienced dentist who has been working in the field for nearly 40 years. He earned his dental doctorate from the Medical College of Virginia at Virginia Commonwealth University. He also has advanced training in forensic dentistry and obstructive sleep apnea treatment. Currently, he is a proud member of numerous professional organizations, including the American Dental Association, Academy of General Dentistry, American Academy of Forensic Science, and the Virginia Academy of Sleep Medicine. For more information on dental implants or to schedule a consultation at his office in Stephens City, visit his website or call (540) 869-4377.