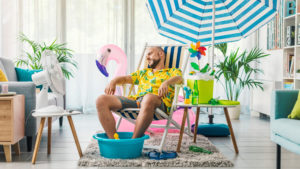 From backyard barbecues to catching a movie at The Family Drive-In Theatre, the summer months are filled with fun activities for the whole family. However, while the warm weather can do wonders for your mood and social calendar, the summer can also negatively affect your quality of sleep – especially if you have a disorder like sleep apnea. Keep reading to discover five ways to boost your chances of getting quality rest during the warm summer months.
#1: Try to Stay Cool
Heat and humidity are often some of the biggest challenges to good sleep in the summertime. This is especially true if you do not have air conditioning in your bedroom. To keep your sleeping area cool, close the curtains or pull down the shades to prevent sunlight from entering during the afternoon. In addition, turn on a fan at night to keep air moving through your bedroom.
#2: Rinse Off Before Bed
Another way to stay cool during the summer is to take a quick shower before bed. Spending time in the sun can leave you feeling sticky and gross at the end of the day. You may often have a mixture of sweat, sunscreen, and bug spray on your skin. Chances are you will feel much more comfortable and have an easier time falling asleep if you take a brief, lukewarm shower before sliding into bed.
#3: Limit Alcohol, Caffeine, and Late-Night Meals
Don't forget that your habits and behaviors when you're awake can affect your quality of sleep at night. Smoking cigarettes and drinking coffee in the afternoon or night can leave you jittery and unable to fall asleep. Consuming alcohol can also disrupt sleep patterns and may aggravate underlying conditions like sleep apnea. Finally, stopping at a fast-food joint for a late-night meal means your muscles that digest and metabolize food have to keep working when they should be resting, which can make it harder to fall asleep.
#4: Limit Screen Time
Excess light at night can make it more difficult for your body's internal clock to stay on schedule. Avoid using your laptop, tablet, smartphone, or television for an hour or two before bed. While this can be challenging, implementing a "no screens" rule in the bedroom can help you avoid the temptation to fiddle on your phone in bed.
#5: Visit a Sleep Dentist
If you're still tired and can't sleep despite following the tips above, be sure to consult with a sleep dentist near you. The true source of your exhaustion may be sleep apnea, a common sleep disorder affecting over 20 million people. If so, your dentist may recommend oral appliance therapy to reduce your symptoms and help you achieve deep sleep. An oral appliance is a small, durable mouthpiece that adjusts the jaw to prevent one's airway from being obstructed at night.
It's difficult to truly enjoy summertime if you're always tired. Follow the five tips above and talk to a dentist to achieve the restful sleep you need.
About the Author
Dr. Thomas Gromling has over four decades of experience helping patients in Stephens City overcome sleep apnea. An active member of the American Academy of Dental Sleep Medicine, he offers high-quality oral appliances at this private practice. For more tips on how to sleep soundly this summer, visit Dr. Gromling's website or call 540-869-4377.