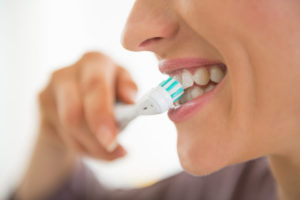 According to the Centers for Disease Control and Prevention (CDC), 1 in 4 adults aged 20 to 64 currently has at least one cavity. Practicing excellent oral hygiene at home is essential if you want to prevent tooth decay and gum disease. However, even if you brush and floss every day, you might still be making errors that can contribute to oral health issues like cavities. Keep your teeth clean and healthy by avoiding these five common teeth-cleaning mistakes that make dentists cringe.
#1: You Rarely Replace Your Toothbrush
If your toothbrush's bristles are frayed or look smashed down, it's time to throw it out. The American Dental Association recommends changing your toothbrush every three to four months. An old toothbrush cannot as effectively clean between teeth or remove plaque. It's also a good idea to replace your toothbrush after a cold, flu, stomach bug, or sore throat. Otherwise, germs can hide in between the bristles and may make you sick again.
#2: You Brush Too Hard
Pressing too hard while brushing or using a hard-bristled toothbrush can wear away your gum tissue. A receding gum line can make your smile appear less attractive and expose your tooth roots to damage. Gum tissue does not naturally grow back, so if your gums recede you may need a grafting procedure to repair your smile.
#3: You Rush Through Your Brush
It can be hard to brush thoroughly when you are in a hurry to get to work in the morning or are dead tired and just want to sleep at night. However, it's important to brush for a full two minutes twice a day. Spend one minute on your upper teeth and one minute on your lower teeth. In addition, be sure to brush all sides of your teeth – front, top, and back.
#4: You Skip the Floss
Brushing alone is not enough to protect your oral health. If you don't floss daily, plaque will accumulate between your teeth and eventually may lead to cavities and gum disease. Be sure to floss at least once a day to clear out debris from the nooks and crannies of your smile.
#5: You Only See Your Dentist for Emergencies
If you want to maintain a healthy smile, don't wait until you have a toothache or other dental emergency to visit your dentist in Stephens City. The American Dental Association recommends scheduling a routine dental exam and cleaning every six months. Only a dental professional using special tools can remove hardened tartar from teeth before it attacks the enamel.
When it comes to cleaning your teeth, ignorance is NOT bliss! Now that you're familiar with the five teeth-cleaning mistakes above, you can avoid bad habits and maintain a healthy smile.
About the Author
Dr. Thomas Gromling has helped Stephens City residents achieve and maintain healthy smiles for over 40 years. A proud graduate of both Virginia Tech and Virginia Commonwealth University, he provides a full range of preventive services at his private practice. For more tips on how to prevent tooth decay and gum disease, visit Dr. Gromling's website or call 540-869-4377.